Technical > Cost Effective Planning
How To Spec Our Product
To Be Most Cost Effective
1
The laser bed accommodates a
maximum sheet size of 5' x 12'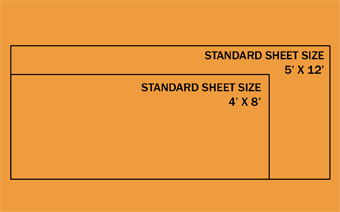 Try to make your panels fit within this size with our typical 2″ bend on all sides for structural support plus 1" clamp space all around. Net maximum panel sizes are 3'-6" x 7'-6" and 4'6" x 9'6" and 4'-4" x 11'-4" for the most common sheet sizes.
Call us to discuss oversized panels.
2
Eliminate secondary structural systems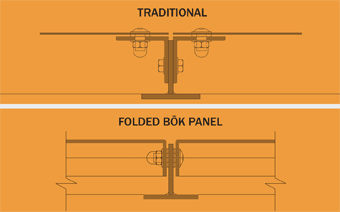 The main concept behind BŌK Modern systems is to 'fold' in the structural integrity of the panel. Typically you only need back-up structural attachment in one direction. The fold and connections between panels create their own structural members both horizontally and vertically.
Use the material in an economical manner
Most sheetmetals come in sizes of 4' x 8' , 5' x 10' and 5' x 12'. Try to get the most of one of these sheet sizes by designing your panels to fit and avoid excess waste.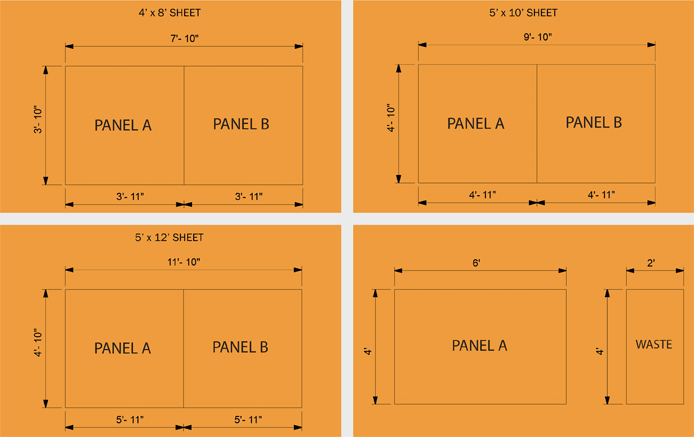 2" FOLD ON
ALL SIDES
FOR MOUNTING PURPOSES.
1" CLAMP SPACE
ALL SIDES
4
Repetition of panel sizes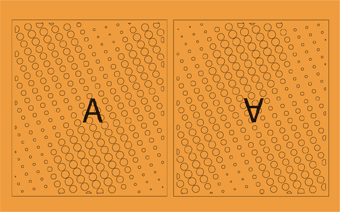 The more panels that are the same, the less cost per panel.
The less pattern variations per panel sizes, the more you save. Sometimes you can rotate the panels to set variations in a pattern to achieve repetition.
A continuous art pattern carried across the panels would be more expensive than a repetitive pattern throughout the panels.
5
The simpler the pattern and the fewer
'penetrations' by the laser saves cost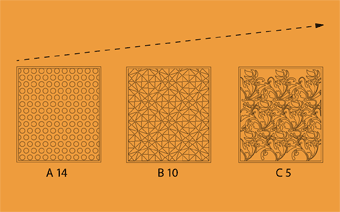 Every time the laser has to create a new perforation there is a delay time.
The less complex the pattern, the less the cost.
Custom pattern does not mean it's more expensive. Send us a CAD file of your custom pattern for pricing. Avoid lacy, intricate patterns if you want to save costs.
Bend affects cost but saves secondary structure
A typical BŌK panel would require 4 folds for structural support.
Compare this cost with the additional structural support you may need without these structural folds.
Choose the best material and finish for the job
If you are in a 4-season area or near the sea; don't cut cost here or you'll end up paying more later for maintenance. Stick to aluminum with a Tiger Drylac 38 and primer finish. For longevity or high-rise application, the Duranar/Kynar finish is worth the additional cost for lower long term maintenance.
Aluminum is always more durable than Cold Rolled Steel. Ask us to quote for both!
For interior finishes, go with Cold Rolled Steel or Hot Rolled Steel. Tiger Drylac 49 is great for interiors and less expensive than the 38 series.
Corten is our most cost effective product. Just plan for rust drips during the early phase of oxidation.
What can BŌK Modern do to help you?
Our team consist of architects, industrial designers and engineers. Our responsibility is to facilitate your design vision, assisting you with mounting details, structural details, bracket details, panel configurations, custom patterns, and material and finish suggestions
Responsibility of the architect, general contractor or owner:
The architect is to provide drawings indicating size and locations of the panels and mounting substrate in CAD format. Architect will also specify system for waterproofing. BŌK Modern assumes no responsibility for water infiltration to structure.
BŌK will provide cost estimate based on this information. Upon order, BŌK will create shop drawings.
All installation details for connections of brackets to structure should be provided by the architect and engineer in the construction document set. BŌK will provide panel to panel, and panel to bracket details. BŌK will also provide assistance and drawings of how our system is assembled and installed. However, it is the architect's responsibility to include the final drawings in the construction document set.
BŌK's responsibility for shop drawings is specifically for panels, based on dimensions provided by the architect and/ or indicated in the construction document set and field verified by the installer. Brackets must be designed by the project architect or the engineer with the assistance of BŌK Modern.
Why BŌK Modern?
BŌK facilitates your vision by working with you to develop details, plans, patterns, structural mounting systems and bracket designs utilizing BŌK Modern's systems.
BŌK Modern's personally tailored modularity offers cost savings over most glass and custom metal railings, architectural screens and rainscreens. while still giving you an aesthetic edge over outdated and high maintenance wood and standard aluminum picket rails.